E-commerce is a business model where you sell your products or services to your customers through an online platform.
Even though this model was emerging in the past few years, the pandemic accelerated the growth of this model even more as we shifted from buying products in traditional ways to online platforms.
In our Blog "How to Make Money Online in India" we shared with you how an E-commerce Business is a great option to earn money without the heavy investment of a traditional business.
However, the real question arises; how to start an e-commerce business. So, let's look at that in detail.
Future of starting an E-Commerce Business
An E-commerce business can be explained as any kind of business in which the transactions take place through the internet.
The future of the eCommerce business is tremendous. During the lockdown, we've seen a shift from traditional purchasing methods to online purchasing. Here are some reasons why starting an e-commerce business is worthwhile:
Business Growth :
Customers' expectations related to businesses have changed and they're now seeking comfort over anything else. Businesses have shifted to e-commerce platforms intending to give their customers the best customer service and also scale their business to the next level.
Large Marketplace:
The biggest benefit of having an e-commerce business is that you get a worldwide customer base for your product or service.
Offers and discounts:
Through an online e-commerce store, the customers can avail many offers and discounts. This gives an additional reason to potential customers to prefer buying from an e-commerce merchant over a traditional brick and mortar store.
How to start an e-commerce business?
While starting an e-commerce business might have the ease over a physical store, there are certain processes involved. Here is a step-by-step guide for you on how to start an e-commerce business in India (and a lot of it will apply to anywhere for that matter).
1. Choose your niche/product
Deciding on what market you want to work in and what niche you want to focus on is quite important. You need to analyze clearly what niche you're interested in. This will help you offer more than what your customers expect from you.
You can also choose a smaller market of your niche to remove the wide competition. For instance, if you choose health as the primary niche of your business, yoga products can be your secondary niche for your business.
A few points you will need to evaluate while making a decision about your niche could be:
Your competition, low or high
Marketing potential customers (This is the universe you are catering to)
Profitability/turnover (Factor in post-sales costs also)
Understanding your target audience
If it's a steady trend, fad, or growing one
2. Validate your product or service
Before you start an E-Commerce business it's imperative to validate your idea. Not validating your niche and ensuring a product-market fit before you go into business might be a big mistake.
To validate, create a real-world online store setting and attempt to sell your product to your target audience. If you can't make enough sales during the validation step, it's a good sign that you'll have a difficult time entering that niche.
3. Research your target audience
In an offline business, it was difficult to narrow down your target audience as there was no way to figure out where that particular bunch of people might reside. But now with all the technologies available to us, we can decide on what audience we need to target based on interest, age, status, etc.
Paid advertising platforms like Facebook & Instagram Advertising help you in figuring out the target audience you want for your business. It might be overwhelming to start with, but it is one of the most effective marketing strategies to focus on.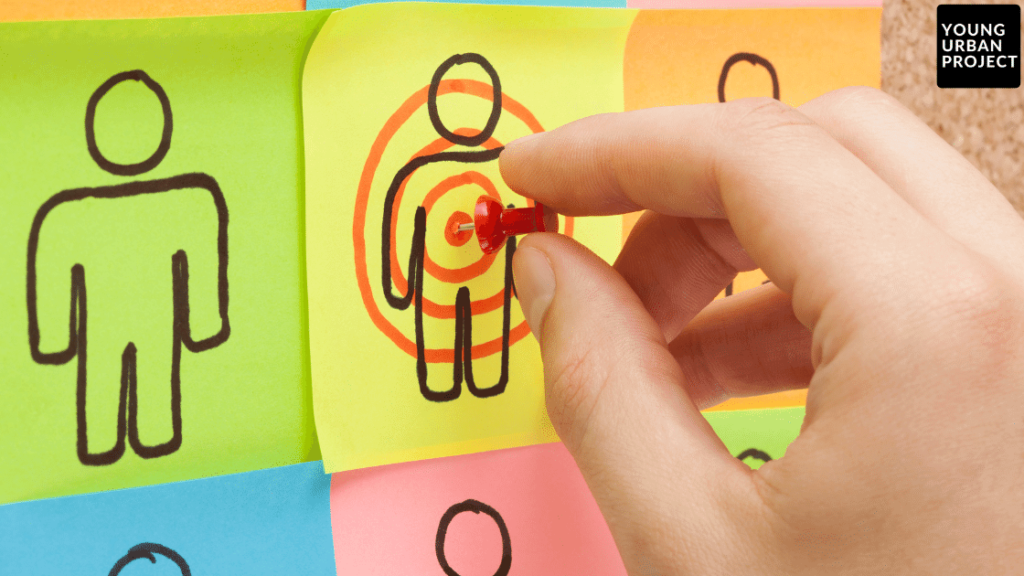 If you want to learn how to get unlimited Sales & Leads from Facebook and Instagram Ads and how to find your ideal target audience, Check out our Advanced Facebook and Instagram Ads course. It's a Self-Paced Course and we have a discount running on it currently.
In an offline business, it was difficult to narrow down your target audience as there was no way to figure out where that particular bunch of people might reside.
But now with all the technologies available to us, we can decide on what audience we need to target based on interest, age, status, etc.
The first step to understanding your target audience is to create a Buyer Persona.
Compile data on your existing customers and social media audience. This includes:
Age
Location
Spending power and patterns
Interests
Challenges in life
Of course this needs to be fleshed out for a precise understanding of who your target audience is. We train you on how to do this in detail in the 10-Week Advanced Digital Marketing Course.
4. Write a business plan blueprint
Before you start an E-Commerce Business you need to write down your business plan from scratch.
This is a crucial thing for any business and you cannot start an E-Commerce business without a business plan.
Your business plan should include:
What your business is about and everything to summarize it.
What you're selling to your customers
How your business will earn money and how you'll profit from your business
A list of employees and executive staff that you're planning to hire for your business
Where you're getting financing and who are your top investors
These are the basics that you need to add to your business plan.
5. Create your online store
This is the most important part of starting an E-Commerce Business, creating your online E-Commerce store. There are many platforms through which you can create your online store.
But let's get you started on the best ones to choose from?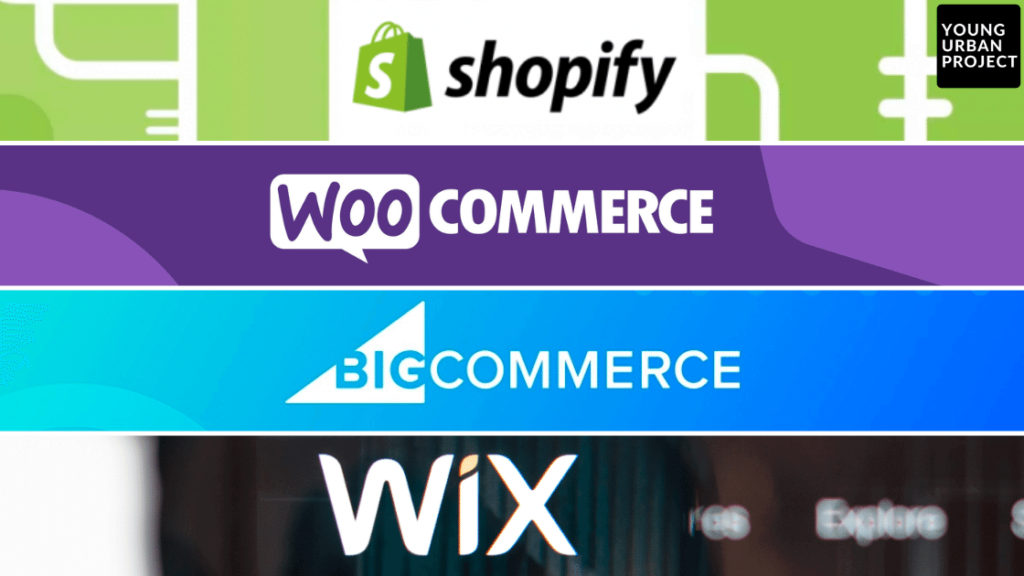 I am sure you must have heard about Shopify by now. It is the most popular platform for eCommerce businesses as it helps you build your store in the easiest way possible. There are several professionally designed and responsive templates that you can choose from and by just making some small adjustments, you can have an amazing store for your business.
Basic plan – $29/mo
Shopify- $79/mo
Advanced $299/mo
Shopify also offers a 14-day free trial. So you can easily try it out and see if these platforms work for you or not.
Are you familiar with WordPress? It is a platform to create websites from scratch with minimal struggle. WooCommerce is a plugin available on WordPress that helps you in turning your website into an eCommerce store.
Price: Free
Bigcommerce is a platform specifically made to assist big companies in selling products online. It offers web hosting and many other customizable features that are needed to make a good website.
However, Bigcommerce does not allow you to register a domain name so you have to buy it elsewhere and connect to it.
Pricing:
Standard- $29/mo
Plus- $79/mo
Pro- $299/mo
Free trial- 15-days free trial available
Wix is another e-commerce store builder that offers many features that makes your hard work a little less painful. You can create your e-commerce platform for free on Wix. However, to make a sale on that website, you need to upgrade to a paid plan on Wix.
Pricing:
The business basic plan starts at $23/mo
The next website builder on the list is Squarespace. It is easy to use, the drag-and-drop website builder that will help you make your website. It has multiple e-commerce features that will assist you in running your e-commerce business. However, like Wix, you cannot make a sale until you upgrade to a paid plan on this platform.
Pricing:
Basic commerce plan- $26/mo
15-day free trial available
How to structure your online store
Now that you've selected your platform to make your e-commerce platform, it's time to create a rough outline/structure of your store.
It is important because people need ease while shopping on your website so if it is well structured, it means it's a good experience for your customers.
Set your navigations
Navigations are through which your website users go from one webpage to another. It is very important to have a good navigation system. Plan your navigations and try to make it simple to understand by the users.
Special focus on the home page.
Your home page is where all your visitors land up first. It is the first thing they see and it should show them value and what they are looking at. Make sure to have a simple yet elegant home page for your e-commerce website.
Also, highlight your key offerings here.
How to create your store step-by-step guide
Select a domain name.
The first step is to decide on a domain name for your website. It should be a simple and easy-to-remember name. It should reflect the core of your business and attract people.
Choose your site builder.
After buying the domain name, you need to decide on the website builder you want to choose for your website builder. Connect the domain name to your website builder to proceed further.
Select the theme for your store.
The next step is to choose the theme you want for your store and start working on the website thereafter. There should be multiple themes that you can choose from, no matter what website builder you've chosen.
Add your products to the website.
Once you choose the theme of your store, adding your products to the website is not a big task. Add your products to the website and also add different features and specifications of those products.
Create other important pages.
There are other pages that you need to make to make your website official and trustworthy. Some of these are terms and conditions, about page, contact, privacy policy, refund policy, etc.
We also teach this step by step in our Top-Rated 10-Week Advanced Digital Marketing Course. It's one of the most practical Digital Marketing Certificate Programs in the market where you will become a Digital Marketing Expert in just 10 weeks.
Market your online store
Now that you've created your online store and are ready to launch it officially, the next step to give a kick start to your E-commerce business is marketing.
I know you all must know the importance of marketing. Especially in an online business, it is important to get in the eyes of people to let them know that you exist.
Digital marketing is the best way to market your e-commerce store because it will direct your customers to your website immediately. Check out this link to know more about how you can market your product effectively.
A few ways to begin your digital marketing journey when you start an E-commerce business are :
SEO marketing
Search Engine Optimization (SEO) is the primary digital marketing component. It allows you to rank your website on the top of SERP (Search Engine Results Page).
It is the most organic and long-term marketing strategy that helps your business to scale enormously.
However, implementing SEO is not as easy as it sounds. It would take you months to see visible results on your website. But a constant effort to optimize your website will not go to waste.
If you want to learn how to effectively optimize your website to rank on the search engine, check out our full-fledged 10 weeks advanced digital marketing course that covers every aspect of digital marketing.
Content Marketing
Content marketing has got a lot of attraction in the past few years and a lot of companies have made great numbers just by sharing valuable content on digital platforms.
It is a way to market your product for free and also connect with your customers on a personal level.
Posting regularly on social media will give you results that you never expected. Check out this link to know more about why content marketing is important for your business.
Paid Advertising
If you want to be a digital marketer, you must have an in depth understanding of paid advertising.
Paid advertising includes running ad campaigns on digital platforms like Facebook, Instagram, Google, and other social media platforms.
It is the most effective and efficient way to advertise your business.
In a short period, you get a lot of attraction through these advertising campaigns. However, there's a condition.
To effectively run these ad campaigns, you need to have a clear understanding of how these paid advertisements work and how can use them for your business.
But that's what we're here for. If you want to run paid advertisements for your business, check out our Advanced Facebook & Instagram Ads Course.
Influencer Marketing
This is getting all the hype in recent times.
Influencers are getting a lot of attraction from brands and they've become a part of the marketing strategy for a lot of brands.
Influencer marketing is only going to increase in the coming years so it's better to be familiar with it now itself.
Market your products through an influencer and observe what content they create out of it. It is one of the best ways to market your new business.
Setting up payment gateways
Payment gateways are through which your customers will pay you for buying the products, just like you do while purchasing something online.
There are multiple payment options that you can offer to your customers like:
PayPal
Google Pay
2Checkout etc
However, it also depends on what payment gateways your website builder supports. Your website builders provide you with features through which you can integrate payment gateways to your website.
There are also manual ways to set up the payment gateways that include coding. If you're comfortable in coding your way to add payment gateways, check out this link.
Are you ready to start your E-Commerce Store?
E-commerce has become one of the best business models and it is worth investing your time and money in it.
If you're just starting with your business and exploring new things, you can start by creating an e-commerce business.
Your main job is to brew up a rock-solid business plan.
Once you have that in place, you can create your online store, start your E-commerce business and begin selling right away.