With the evolution of technology and consumer behavior of people, the methodology of marketing, specifically the scope of digital marketing, has also evolved over the years.
From years ago when Radio advertisement was the place to be for businesses, the attention moved to television marketing. And in the present times, the focus is on digital marketing.
Every day new digital marketing methods and tactics emerge. Marketers are in a constant effort to think of new ways to leverage the potential of this platform.
Due to the lucrative nature of the industry and the scope of digital marketing being touted as massive, a lot of people want to enter it for making their careers. But that also means that competition is increasing constantly.
So does it make sense to enter the digital marketing industry and become a digital marketer today?
What are the opportunities for brands and advertisers in Digital marketing?
Obviously, TV is still a prime source for advertising (in terms of spends) for a lot of business but Digital Platforms have given the opportunity to the marketing community to broaden its audience reach.
It is natural that an increase in the use of digital platforms will have a direct impact on job creation in this field.
I have curated a comprehensive guide on the scope of digital marketing and how you can pave your career path in it!
Why Make a Career in Digital Marketing?
The advancement in technology has compelled businesses to realign their marketing strategies. All businesses are utilizing the power of digital in one way or the other.
While some have added online options to their physical business stores, others have incorporated digital marketing into their marketing strategies. Some businesses have completely gone online with no physical presence.
This transition has been inevitable because the audience today either prefers to buy online or at least research products and services on the internet prior to the purchase.
A huge reason for this is the increase in the penetration of smartphones. As per a report by Consumer Electronics and Appliances Manufacturers Association (CEAMA India), there are more households that have a mobile phone in India, than there are households that have ceiling fans. That shows the role being played by smartphones in the growth of the digital economy.
But this may not be the only reason why companies prefer Digital Marketing.
Here are some reasons why the Scope of Digital Marketing is bright:
Ease of Audience Targeting 
The digital marketing platforms have not only made it easier to increase your target audience base but have also given the data to define your target audience based on specific factors like age, gender, geography, interests, to name a few.
Not only does it allow a laser focus on your niche audience, but it also gives you the opportunity to retarget the audience that has shown interest in your product or service during the various stages of the customer journey.
There are specific courses designed and available today to help impart this skill. We, at Young Urban Project, have launched our own detailed workshops and digital marketing courses to train on these.
Low Investment, High ROI
Let me share an astonishing statistic with you. If strategized correctly, the Cost Per Lead (CPL) with digital marketing is 61% less expensive than traditional marketing.
Believe me, this number can brighten up any business owner's day.
When a business advertises on social media or uses other digital strategies like Pay-Per-Click (PPC) Advertising, it allows them to keep their costs down and enhance their audience targeting (as compared to traditional advertising). This considerably decreases their spending on campaigns, while increasing the ROI.
It may so happen that the ROI through digital marketing is not only higher but more instantaneous as well. This happens because digital marketing campaigns can start showing measurable results almost as soon as they are deployed.
Reaching Mobile Users 
With almost every household worldwide having a smartphone and the majority of them having internet access the potential customer base for all businesses has crossed all geographical boundaries.
The potential audience can be reached anywhere and anytime.
Unlike TV, which is kept at one place in the house and multiple people from different demographics watch it in the same household, mobile phones are personal and are always carried by the owner.
That is what makes mobile phone as a superb channel for reaching out to audience via digital marketing.
The Scope of Digital Marketing for Businesses
The explosion in the use of social media is evident now as more than 85% of businesses are using digital marketing as part of their key advertising approach.
There are two ways that companies can use to establish this approach; business-to-business (B2B) or business-to-consumer (B2C) digital marketing:
B2B: For lead generation, while B2B marketers are heavily reliant on web traffic they also are using social media platforms like LinkedIn and Twitter. The use of PPC campaigns is extensive to reach target audiences economically.
B2C: B2C marketers are majorly focused on cultivating brand awareness and drawing customers to their business/company websites and products using social media platforms like Facebook, Twitter, Instagram, and Pinterest.
Other ways, in addition to social media, where businesses are active to reach new audiences are – Paid Search, Email Marketing, Content Marketing, and many other channels.
Digital Marketing in 2021 and way forward…
Digital marketing trends are evolving right as we speak. Each year sees a new growth trend in Digital marketing as more and more companies enter this space and new technologies see light.
Looking beyond 2021, I have a few trends listed here that will help continue to shape this space and will help you evaluate the scope of digital marketing in the times to come:
Social Media Influencers
The boom in Influencer Marketing is no secret. Marketers in every industry are reaching out to social media influencers to help boost their brand awareness.
The main reason for the success of this medium is that people tend to believe in other people using the products or services rather than trusting the marketing communication of a brand.
When an influencer endorses a particular product or service, it helps establish faith in the minds of potential customers.
Undoubtedly more companies in the coming year and beyond will use these influencers to drive sales.
Video Marketing is the biggest opportunity going forward
When we discuss the scope of digital marketing, it is hard to miss out on the importance of Video Marketing.
Nowadays written content and images alone aren't enough for brands to get by. Live streaming, interactive 360 videos, augmented reality etc. are far more engaging and interesting for consumers.
Brands across are understanding the value of videos and putting resources into its creation and circulation.
Videos are an important strategy as digital marketers capitalize on users' short attention spans.
If you want, go ahead and learn Video Marketing as it will continue to play a momentous role in improving engagement for brands and help develop a connection between the audience.
Most of today's social media channels offer live video as well as video-sharing capabilities to keep up with both advertiser and user demand.
Artificial Intelligence
When we talk about advancement in technology in digital marketing Artificial intelligence (AI) definitely has a significant role in the scope of digital marketing and the future of it.
It has allowed digital marketers to collect more productive data for analysis so they can further customize their customer journeys.
The data collected by AI can help in a more in-depth understanding of a persona and help develop results for specific populations. This will help companies develop an understanding of what will be most likely to appeal to specific sections of their audience base.
Another use of AI is to provide a more personalized experience for users. You may yourself have experienced customized assistance at each stage of the buying process while buying certain products or services.
Companies also may use automation of ads to targeted audiences using programmatic advertising.
Augmented Reality and Virtual Reality
Another interesting technology that is put to use by marketers is augmented reality (AR) and virtual reality (VR) in their marketing strategies. By providing a more intuitive experience to their customers they help build a better connect between their brands and products and the audience.
A few companies like are Starbucks, Nivea, and Volkswagen who have led successful campaigns integrating AR and VR into their marketing strategies.
AR is being extensively used in making of Filters and Effects for Snapchat and Instagram Stories. This is something that is exciting brands greatly. AR can allow people to try out a brand's products (like sunglasses or jewellery) in a virtual environment – leading to an intent of purchase.
I had recently built my own Instagram Filter for Instagram Stories. It is called "DailyHustle" by Young Urban Project. You can check it out on our Instagram profile.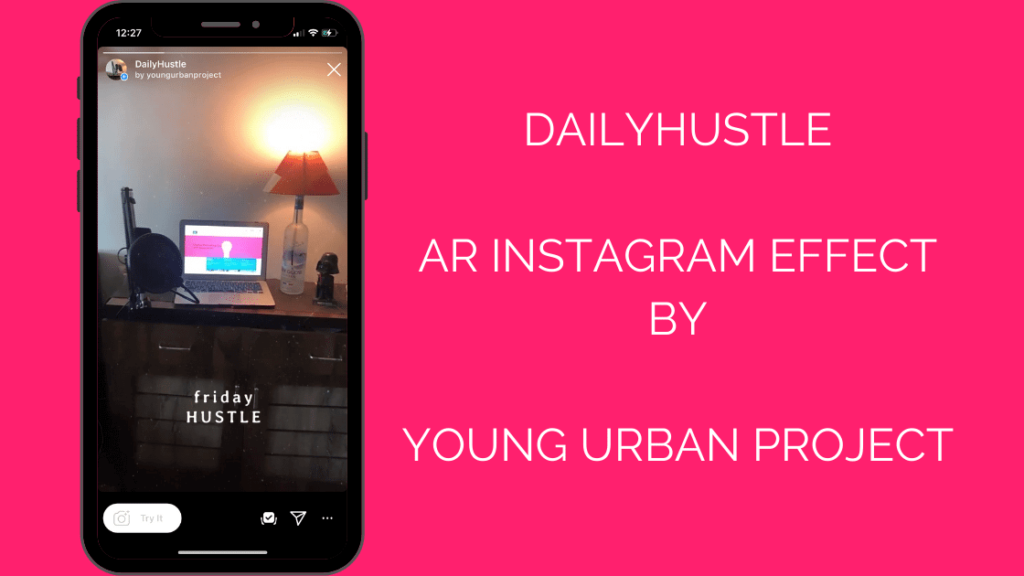 Career in Digital Marketing
Digital marketers have beautifully incorporated these trends in their marketing strategies. Digital platforms are seen as reliable, influential, measurable, and user-friendly.
This has given companies the confidence to explore the online marketplace to broaden their customer base.
With the potential customer base increasing, more jobs are becoming available to meet these needs than ever.
Bigger budgets, increased pay, and more career choices are just some of the benefits digital marketing professionals can look forward to.
The average salary of a digital marketing manager is over $74,000 per year in the United States. In India, a Digital Marketing Manager in a corporate can expect to make Rs 5L to Rs 7L within 3-4 years of working. It can be even higher – depending on the skillset.
Other high-paying digital marketing roles include social media marketing specialists, PPC specialists, digital marketing consultants, and search engine optimization (SEO) specialists.
Bloggers and YouTubers can also find themselves writing and vlogging professionally in the digital marketing space.
There is a huge scope of digital marketing in the future and there's a wide range of careers available in the digital marketing space. However what is required is a solid understanding of the techniques and tactics essential to succeed in the field.
Today numerous courses are available online which can help aspiring marketers learn social media, PPC, SEO, web analytics, email, and content and mobile marketing methods to be able to launch and maintain effective campaigns.
With the dynamic nature of this field, even existing marketers need to upskill to compete here.