If you are looking for the best digital marketing course in Chandigarh, you have reached the right place.
In this blog, we have listed the best digital marketing courses that you can join to learn digital marketing and become an expert.
You will also be able to know the curriculum, contact details, and the fee for these courses.
But before we look at the list, let's answer a burning question. The question is:
Why should you learn digital marketing today?
Look around you. Today, more than ever, people are dependent on technology for almost everything.
From making payments to getting directions, from buying products and services to connecting with friends and family, people are increasingly using mobile devices, laptops, desktops, and even TVs and radio's to get information and conduct business.
If you are not already using all available digital tools to market your business, you are truly missing the boat.
If you are using any of the above media to market your business, you are already ahead of the game.
However, if you are not using digital tools to market your business, you are truly falling behind.
Because the consumers are online, brands also have to go online in order to reach those consumers.
It doesn't matter what city you are in, or what you are selling.
You could be sitting in Chandigarh, and could still sell your products or services to consumers across India.
And to do that, you have to know the right Digital Marketing skills. With them, you will become a customer acquisition and a branding machine.
Are there Any Digital Marketing Jobs in Chandigarh?
There is a huge opportunity for digital marketers anywhere in the world.
However, when you check specifically for digital marketing jobs in Chandigarh Tricity area, there are a lot of openings.
Below is the latest screenshot from Naukri.com where you can see the number of digital marketing vacancies.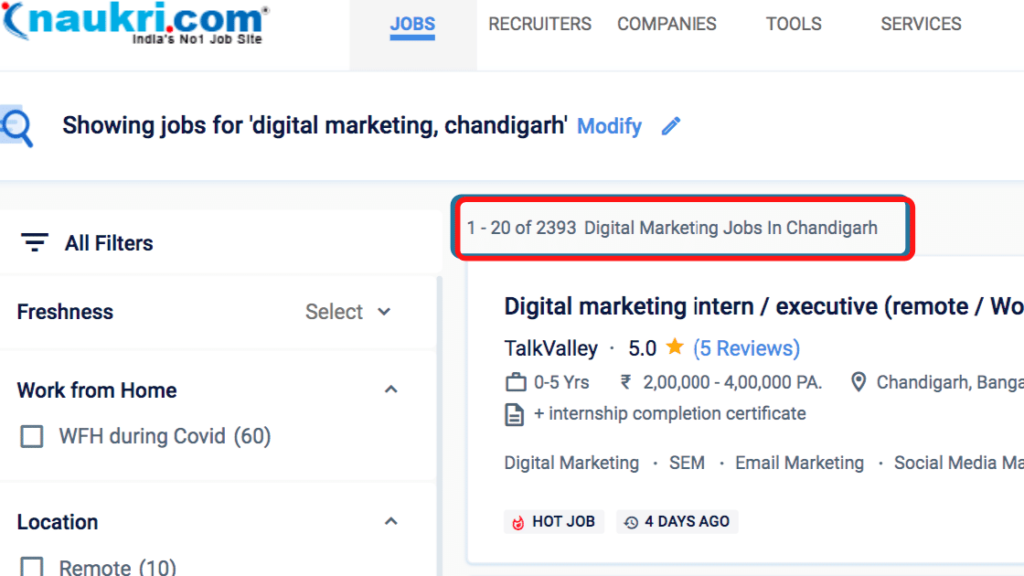 This includes office location jobs as well as remote digital marketing jobs in Chandigarh.
If you learn digital marketing in a structured and proper way, you will be able to grow your digital marketing career very fast.
Note: If you are looking to learn Digital Marketing from beginning to advanced level, click to enroll in the 10-week Advanced Digital Marketing Course by Young Urban Project.
10 Best Digital Marketing Courses in Chandigarh
1. Young Urban Project – Digital Marketing Course in Chandigarh
Young Urban Project is India's leading EdTech company that specializes in premium digital marketing courses. The company is founded by Award-Winning Industry Leaders who have proven expertise in running multi-million dollar campaigns.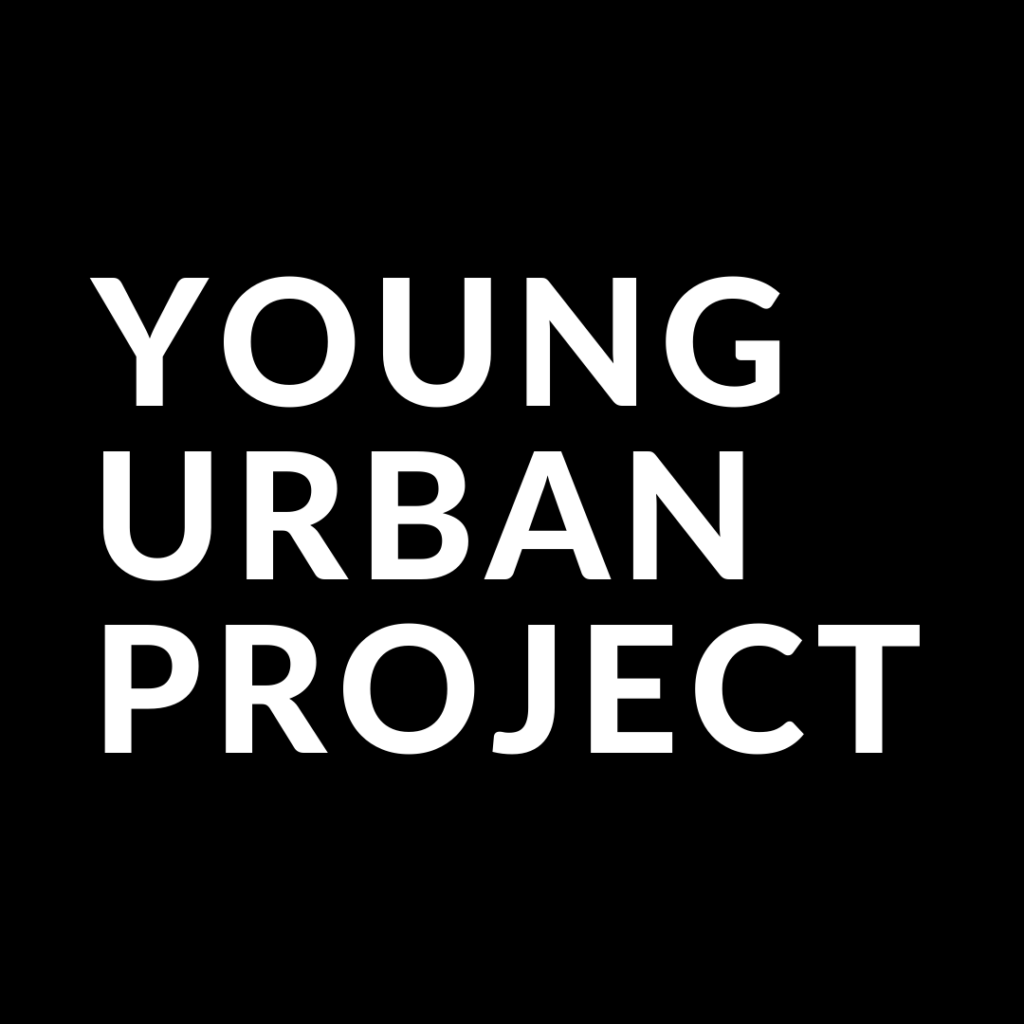 Young Urban Project has trained over 5000 students in the first 12 months of its inception and has become a preferred choice for anyone who is looking to learn Digital Marketing in a practical way.
The company also runs specialization courses to train learners in copywriting, Facebook Advertising, Google Advertising, No-Code development, and a lot more.
Young Urban Project is the only upskilling institute in India that focuses on 100% practical learning and not on superficial, theoretical learning.
Post-Covid, a lot of working professionals and business owners realized that Digital Marketing was no longer optional and they had to transition.
And to provide easy access to anyone wanting to learn and master Digital Marketing, Young Urban Project designed their flagship 10-Week Advanced Digital Marketing Course.
It is a certification course that trains learners in 100% practical digital marketing skills that can be implemented on the job or in business immediately.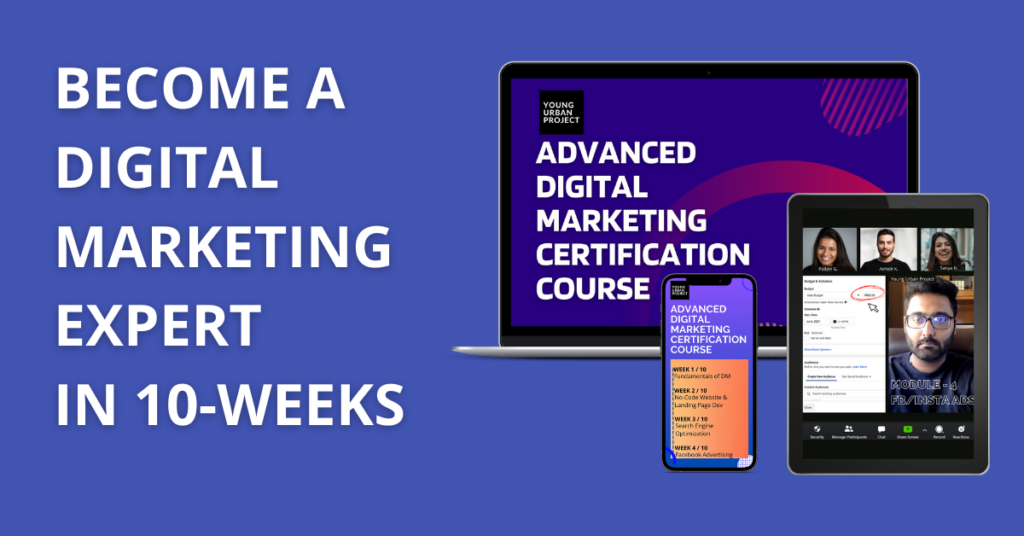 This course is divided into 10 weeks. Each week contains 2 modules (on Saturday and Sunday).
The best part about this course is, it is Online and Live. That's right! It is not one of those pre-recorded courses where you get some videos and you never hear from the course creators again.
This course is fully interactive where you can ask questions anytime and you will work on real-life case studies.
Here is the curriculum for the 10-Week Advanced Digital Marketing Course by Young Urban Project
Week 1: Digital Marketing Fundamentals & Strategy
Week 2: Website & Landing Page Creation
Week 3: Search Engine Optimization
Week 4: Facebook & Instagram Advertising
Week 5: Content & Video Marketing
Week 6: Email Marketing & E-commerce
Week 7: Google Advertising / SEM / PPC Ads
Week 8: Social Media Marketing
Week 9: Google Analytics
Week 10: Personal Branding & Resume Preparation
Faculty for this course:
At Young Urban Project, each mentor is an industry practitioner – someone who has been implementing these skills for years. They are not teachers. They are the people who are extremely hands-on with each topic.

Course duration and Fee:
The 10-week Advanced Digital Marketing Course by Young Urban Project is 10 weeks long. The classes take place on weekends and you get to implement your learnings through Live Projects on the weekdays
The fee for this course is Rs 20,000 (all inclusive). There are EMI options also available.
This is the most affordable Advanced course in this category and is packed with more value than anything else in the market.
Here are some Course Highlights:
100% Live Practical Classes
Complete Placement Assistance
Live Projects with top brands to give real industry exposure
Learn 20+ digital marketing tools
Industry recognized certificate + Certificates from Google, Facebook & Hubspot
70+ Hours of live classes
Live Projects from brands like Unacademy, Nivea, Edelweiss
Internal projects to build a portfolio
1-on-1 mentorship even beyond 10 weeks
Career guidance for Resume making, interviews and more
What certifications will you get:
You will get certified by Young Urban Project and you will get assitance for certificates from Google, Facebook & Hubspot too.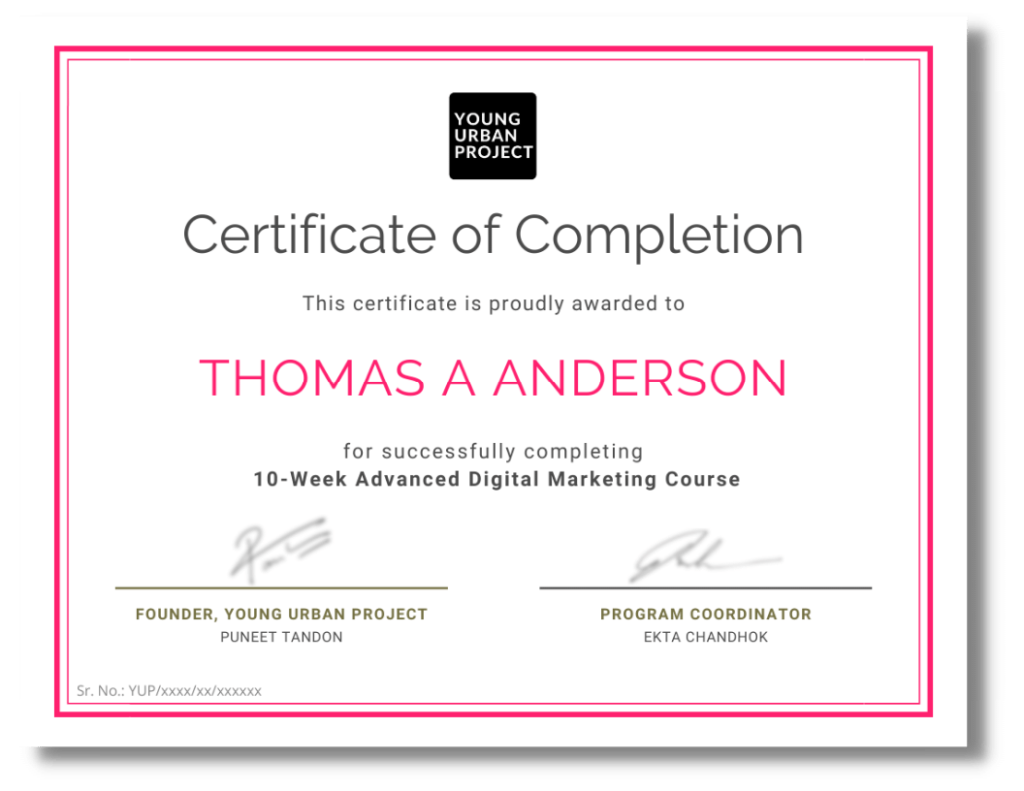 Young Urban Project Alumni work at some of the best companies in the world

You can learn more about this 10-week Advanced digital marketing course by Clicking Here.
Website: www.youngurbanproject.com
Email: hello@youngurbanproject.com
Whatsapp: 9321999877
2. CIIM – Digital Marketing Institute in Chandigarh
Chandigarh Institute of Internet Marketing (CIIM) – ISO:9001 Certified Digital Marketing institute in Chandigarh — was founded by Surjeet Thakur in the year 2010.

They train aspirants in various digital marketing domains such as PPC, SEO, SMM, SEM, Video Marketing, etc.
Course Syllabus
Introduction to digital marketing
SEO
Google Ads
Social Media Marketing
Youtube SEO
Ecommerce marketing
Lead generation
Blogging/vlogging
Google adsense
Affiliate marketing
Freelancing
Course Duration: 3 Months
Contact: 073473 92745
Address: SCO 54-55, Sector 34-A, Chandigarh 160034
Email: info@ciim.com
Website: ciim.in
3. CIDM – Digital Marketing Course in Panchkula, Chandigarh
The digital marketing course at CIDM is curated to teach students to be customer-focused.

From creating eye-catching and grammatically correct content to make user-friendly websites- they help the students with an end-to-end solution and let them find out their stream of specialization.
But since the scope and boundaries of digital marketing often merge and overlap with each other, the students get a wholesome training of each aspect.
Course Duration: 3 Months (they also have 2 months & 1 month option)
Address: Address: SCO-26, Second Floor, Sec 11, Panchkula
Website: cidm.co.in
Contact: 988 22222 11
4. TIDM – ThinkNext – Digital Marketing Course in Mohali, Chandigarh
ThinkNEXT Institute of Digital Marketing is known as TIDM a leading digital marketing institute which is located in Mohali and Chandigarh, India.

They provide full-time digital marketing training to individual candidates who are looking for jobs, digital marketing course for entrepreneurs, customized digital marketing course for Internship Students in Chandigarh, Mohali.
Curriculum:
Google Ad-words Fundamentals
Google Video Advertising
Google Search Advertising
Google Shopping Advertising
Google Display Advertising
Google Mobile Advertising
Google Analytics Certifications
Bing Certifications
Facebook Certifications
Course Duration: 3 Months
Address: S.C.F. 113-114, Second Floor, Sector-65, Phase-11, Mohali (Chandigarh)
Email: info@tidm.in
Website: tidm.in
Contact: 95777-04000
5. Morph Academy – Digital Marketing Course in Chandigarh Tricity

Morph Academy is a skilled-based professional institute in Chandigarh, offering 100% job-oriented professional courses and training in 3D Animation, Film Making, Video Editing, Sound engineering, Business Management & Markeing Music Production, Graphics & Web Designing, Digital Marketing, and Professional Photography in Chandigarh and Punjab region. Morph is an ISO 9001:2008 company.
Curriculum:
Principles of Digital Marketing
Website Development
Search Engine Optimization (SEO)
Google AdSense and Affiliate Marketing
Search Engine Marketing (SEM)
Social Media Optimization
Email Marketing
Online Reputation Management
Google Analytics In-depth
Course Duration: 1 month
Website: morphacademy.com
Phone: 9501489999
Email: info@morphacademy.com
Address: SCO 64-65, 3rd Floor, Sub. City Center, Sector 34A, Sector 34, Chandigarh
6. Pal Digital Marketing Classes in Chandigarh
PDMC is providing the advanced digital marketing course in Mohali for students, professionals, and companies. They teach how to draw the attention of customers through this course.
They teach how to promote your services and products at a wider level by engaging the maximum customers throughout the world.

What will you learn:
How to Promote Any Website Online
How to Run ads on Google & Facebook
How to Earn by Blogging/Adsense & Affiliate Marketing
How to design website
How to Successfully Plan & Manage a Project
How to Sell Your Products Online
Course duration: 2-3 months
Address: SCO No: 126-127, 4th Floor, Sector 34 A, Chandigarh
Phone: 9815770276
7. Webtech learning Digital marketing Institute Chandigarh
Webtech Learning is a one-stop institute to learn programming languages, digital marketing, graphic designing and video editing.

With the flexibility of choosing between online and classroom (offline) modes of learning, our comprehensive courses have been specifically designed for students, working professionals, businessmen and entrepreneurs.
Course duration: 12 weeks long
Course curriculum:
Digital Marketing Strategy
Content Marketing
Email Marketing
Paid Search (PPC)
Digital Display Ads
Mobile Marketing
Youtube Marketing
E-commerce Marketing
Web Analytics
Search Engine Optimization (SEO)
Search Engine Marketing (SEM)
Social Media Marketing (SMM)
Course duration & Course Fee: Please reach out to them directly using the details below.
Email: info@webtechlearning.com
Phone: +91 98783-75376
Address: SCO – 54-55, 3rd Floor, Sector – 34 A, Chandigarh
8. BigBoxx Professional Academy Chandigarh
The BigBoxx Professional Academy, an ISO Certified institute is the best and well renowned institute for 100% Job Oriented Computer courses in Chandigarh for 10th, 12th, Graduate and Post Graduate students.

The institute is set up to impart specialized and industry related worldwide educational programmes.
They provide 100% Job Oriented & Skill Based Training in Animation VFX, Web Designing & Development, Graphic Design, Digital Marketing, Interior Designing and Music Production.
Course duration: 3 / 6 months
Course Curriculum:
Search Engine Optimization
Social Media Marketing
Webmaster tool
Google Adword (PPC)
Google Analytics
Affiliate Marketing
Email Marketing
Mobile Marketing
Digital Marketing Strategy
E-commerce Marketing
Infographics Content Marketing
App Store Optimization
Email: info@bigboxx.in
Website: bigboxx.in
Phone: 8427023322
Address: SCO 64-65, 2nd floor, Sector 34 A, Chandigarh
9. Webhopers Academy for Digital Marketing Course in Chandigarh
WebHopers is a complete Digital Marketing company Chandigarh, SEO Company in Chandigarh, PPC Company, and Web Development Company Chandigarh which has contributed to many startups who are looking to capitalize on limitless possibilities that digital marketing can provide.

They have established their brand value on the basis of their results, tangible ROI, professional approach to problems and tailor-made solutions for clients.
Course curriculum:
SEO
PPC
Social Media Marketing
ORM
Email Marketing
Google Adsense & Affiliate Marketing
Course duration: 2-3 months
Course fee: Rs 22,000
Website: webhopers.in
Email: info@webhopers.com
Phone: 9856890001
10. 9i Technologies Chandigarh
With over 50000 students undergoing their Courses (Online and In-Class), they are a known Training Company for IT Training. They teach latest Technologies – Digital Analytics, Artifical Intelligence, Machine Learning, React JS, Node JS, Big Data Hadoop among others.

Course curriculum:
Overall Introduction to the Course
Online-Offline Overview
New Business Models of the Digital Economy: Principles and Examples
Frictions and Commerce
Variety and the Digital Economy
Online-Offline Interaction and the Omni Channel World
Networks
ntroduction to Digital Marketing Assets
Digital Marketing Tools and Tactics: A Taxonomy
Online Advertising: Approaches and Principles
Earned and Integrated Media
Networks Effects
Social Advertising and Social Targeting
Viral Product Features and Viral Content
Organic Celebrity, Persuasion, and Sentiment
Course fee: Contact on the details mentioned below to know about the digital marketing course fee
Website: 9itech.com
Email: 9itech.online@gmail.com
Phone: 88720-11441
Address: SCO 198-200, 3rd Floor, Sector 34-A, Chandigarh
Frequently Asked Questions
What is Digital Marketing Course fees?
Digital Marketing course fees can range between Rs 5,000 to Rs 3 lacs. While each course is different, the course fee depends on the curriculum, format, faculty, and brand value.
But in the case of Digital Marketing Courses, expensive is not always good. A lot of institutes charge you for the certificate they have licensed from other B-Schools, which might not be worth it.
The Course fee for the 10-Week Advanced Digital Marketing Course by Young Urban Project is Rs 20,000 all-inclusive. It is the most affordable, and best value course in the cohort-based segment.
What is the ideal Digital Marketing Course Syllabus?
Digital Marketing requires expertise in the full user journey (or Funnel). The steps you need to master are Awareness, Interest, Decision, and Action. For each of these steps, different digital marketing channels are useful.
In the 10-week Advanced Digital Marketing Course by Young Urban Project, you will learn all this and more. Over the 10 weeks, you will learn the following modules:
Digital Marketing fundamentals & strategy, WordPress website development & Landing Pages, SEO, Facebook & Instagram Ads, Social Media Marketing, Google Ads, Google Analytics, Content Marketing, Email Marketing, E-Commerce, Personal Branding and Resume Making
Which is the Best Digital Marketing Course in Chandigarh
Young Urban Project's 10-Week Advanced Digital Marketing course is the most industry-relevant and 100% Practical based Digital Marketing course in Chandigarh. It is taught by Award-winning Industry experts who have executed multi-million dollar campaigns.
If you want to get free Digital Marketing Tips daily, follow Young Urban Project on Instagram.